MAY 2016 The Guardian, Great Britain

Court condemns tobacco giant Philip Morris over secret bid to sue Australia
Tribunal rejected the move to challenge plain packaging laws, calling it an 'abuse of rights'.
An international tribunal has unveiled a secret ruling confirming it rejected a bid by tobacco giant Philip Morris to sue Australia over its plain packaging laws, calling the attempt "an abuse of rights". In 2012 Australia became the first country to mandate that cigarettes must be sold in plain packages, in an attempt to reduce smoking rates. This initiative has since been followed by other nations including France and Britain.
Read full article here
Stepbac® opinion: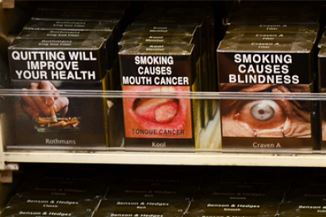 We think that is good that Australia has banned branding of any kind on cigarette packets in 2012. The only indication of a cigarette brand on the packet now is the brand name at the bottom of the cigarette packet which is in the same neutral font for all cigarette brands. 

This makes it almost impossible to see what brand of cigarette people are smoking because cigarette packets look almost identical with most of the front covered in health warnings with unpleasant photos of tobacco related illnesses.

We don't know if measures like these will dissuade young people from taking up smoking, but we certainly hope that the de-branding of cigarettes in this way might help regular smokers to consider quitting because plain packaging is almost as unattractive as the habit of smoking itself. A large part of cigarette branding is the "cool factor" and "uncool" ugly packaging might help combat the illusion that young people have that smoking is somehow cool.

Read our Quit Smoking book called "Stepbac® from Smoking" to find out more about how smokers are tricked into smoking and how we teach smokers our Stepbac® method to quit cold turkey without a need for any type of nicotine replacement products or therapy. Our method is easy to understand and our book is an easy read with over 40 illustrations and available on Amazon for less than five dollars.

DISCLAIMER. Individual stop smoking results may vary.

---
---