Medicalexpresss reports in September 2020 that a
new study
of more than 200,000 UK men, by Dr. Aurora Perez-Cornago and colleagues at the Cancer Epidemiology Unit, Nuffield Department of Population Health, University of Oxford, UK, reveals that there is a link between central adiposity (concentration of body fat around the belly and waist) and the risk of death from prostate cancer.
This is another in a long line of studies that links overweight to bad health and we thank all the hardworking doctors, scientists and researchers in this field.
Many people know that overweight is not healthy but as always the research never suggests a way to actually reduce weight and get back to a natural and healthy body weight.
Our method and book "
Stepbac from Overeating
" does suggest a simple way to take back control of weight. The book explains how the food industry uses science to create overeating habits and then teaches a way to change food shopping and eating habits.
It's written in plain language with many illustrations which makes the book easy to understand and use.
Read it today in paperback or e-book edition.
Related Stepbac articles
How to improve your immune system
How can I lose weight after 40?
Poor diet kills one in five globally

---
Read "Stepbac® from Overeating" today
How to get paperback or e-book edition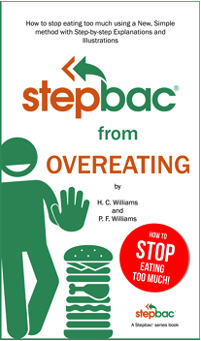 Buy Stepbac from Overeating today

Stepbac® gives away as many free Stepbac books to front-line heathcare workers and teachers as possible. If you want to support this effort, then kindly consider making a book donation after you have read this book if you feel it helped you. Thank you.

DISCLAIMER.
Individual results may vary and Stepbac is cognitive behavioural method that requires some willpower from reader.


© Copyright - All content copyright Stepbac® - unless otherwise stated