'Junk food is the new tobacco' - Boris Johson and Britain declare "war on obesity" July 2020
The Observer newspaper (part of the Guardian group) writes in July 2020 that "
Junk food is the new tobacco
': experts call for restrictions to tackle obesity. Scientists and health campaigners want bans on outlets near schools and an advertising watershed"
Excellent article about Britain's urgent need to fight obesity which is, in the opinion of the Stepbac creators, is almost entirely caused by the food industry.
As we explain clearly in our book "Stepbac from Overeating", people of all ages are tricked into overweight and bad health by junk food products and marketing methods specifically designed to create sugar addications, overeating habits and cravings.
In our opinion, the modern food industry is out of control and seems to have a blatent disregard for the long term health problems for people and society that their so called "food products" are creating.
In our opinion, this has become an industry that makes money off misery and puts people over profit.
But now, hopefully in the UK at least, the tide is turning for the food industry, as Prime Minister Boris Johnson and the British Government goes to war on obesity.
This could be the launch of an era that see real regulation of the food industry in the UK. Whether it will be succesful remains to be seen, but it's a good start.
The reason for this declaration of war is the Covid-19 pandemic.
When the Covid-19 coronavirus struck the world in early 2020, it highlighted the deplorable state of health of many western population.
Studies in many countries now confirm that overweight has been identified as a major factor in Covid-19 deaths.
In 2020 it's estimated that 64% of the adult population of England are overweight or obese and the images and videos of victims of Covid-19 coronavirus brought adults of all ages to the stark realisation that overweight and obesity had left them with low immune systems and weakened respiratory systems, both essential for surviving Covid-19.
British Prime minister Boris Johnson himself almost died after contracting theCovid-19 Coronavirus. His weight when he went into Intensive Care Unit was 17 stone (107kg) which is very unhealhy for his height of 5ft 9 (175.3 cm)
His brush with death caused Boris Johnson to change his "libertarian" views on food and obesity and hopefully this means that real change and support to tacke overweight and obesity will now be now forthcoming from the British Government after Boris Johnson announced a "war on obesity".
At Stepbac, we are very pleased about this turn of events because it really confirms the claims in our book,
Stepbac from Overeating
, that the food industry is at the root of the overweight and obesity crisis.
One could almost lay the much of blame for the devastating ecomonic impact that the Covid-19 virus at the feet of the food industry, because they are the ones who caused the general public health to be so frail and vulnerable to the a pandemic like the Covid-19 coronavirus.
Ironically the food industry was one of the big winners of the pandemic as everyone stayed home and stuffed themselves with junk food.
Perhaps the food industry should help pay for bailouts from the record profits they made?
The British Government now propose as a first stop to limiting junk food advertising and ban junk food outlets near schools. It's a good start, but it will take decades to dismantle the junk food industry and in the meantime people's lives and health are being ruined at alarming speed.
In our book
Stepbac from Overeating
we explain, in simple terms and plain language, how the food industry tricks people into overeating habits, how habits and cravings work - and we teach a simple way to change basic eating habits to take back control of one's weight and health.
For 2020 during the Covid-19 pandemic this book is free to read and we hope it helps as many people as possible.
Articles about this subject in UK news:
Observer
editorial on obesity in UK
Guardian:
new UK junk food rules
Guardian:
No. 10 plans new UK weight loss drive
The Sun:
How much does Boris Johnson weigh and is he obese?
Related Stepbac articles
How to improve your immune system
How can I lose weight after 40?
Poor diet kills one in five globally

---
Read "Stepbac® from Overeating" FREE today
How to get paperback or download FREE ebook edition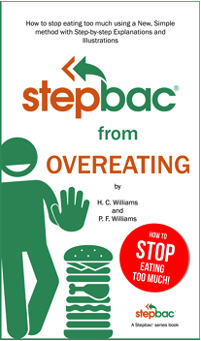 Download and share FREE ebook editions of "Stepbac from Overeating" for Ereaders and Kindle and ereader and Kindle apps, on our free ebook download page.

The paperback edition of "Stepbac® from Overeating" is available to free on Amazon in US region and available to buy at non-profit price in other Amazon regions.

- Paperback edition Amazon.com
- Paperback edition Amazon.co.uk

Stepbac® is supported only by donations at present and we don't make a profit on the paperback edition, so kindly consider making a small donation after you have read this book if you feel it helped you. Thank you.

DISCLAIMER.
Individual results may vary and Stepbac is cognitive behavioural method that requires some willpower from reader.
© Copyright - All content copyright Stepbac® - unless otherwise stated