What is the best way to quit smoking cold turkey? The best way to quit smoking cold turkey for a New Year is a new, innovative and simple method based on the Stepbac
®
method.
The concept is that you take a "
step back"
to the day before you started smoking.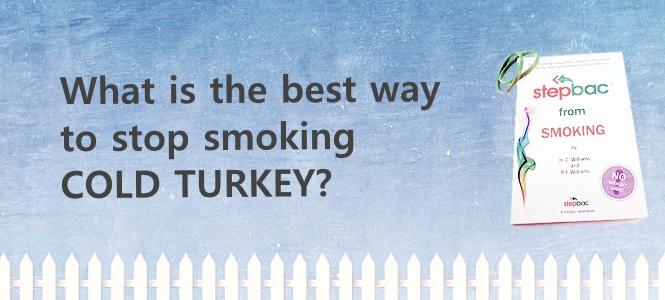 You can learn how to do this using the Stepbac method. You can learn this method in around two hours by reading the book
Stepbac from Smoking
( available as e-book or in paperback at Amazon)
Now, you might think that reading a book is complicated way to quit. Too complicated.
It's actually simple and fast way. And it's effective. This book is very easy to read and easy to understand with over
40
clear diagrams and pictures to explain the science.
Now you might be thinking, I don't need to know the science - I just want to stop smoking.
We get it, but you need to understand a little bit of the science to understand why you want to keep smoking to learn how to stop smoking.
The book Stepbac from Smoking explains why you are addicted to smoking and teaches you a simple way to stop smoking.
Everyone who wants to stop smoking would prefer to quit cold turkey.
Cold turkey is when you quitting by oneself without using treatment, or patches or gum. You just decide never to light another cigarette.
People also call this the "willpower" method because you stop smoking by only using your willpower.
We understand that many smoker feel that way. They are thinking that I started smoking myself - so I can quit myself. It's my decision. I decided to smoke and now I can decide not to smoke.
That sounds like the easiest and most convenient way to stop.
But, sadly for many, it is just not that simple, which is why there are so many products out there to help you cut down and replace cigarettes with other products.
But you can quit "cold turkey". It can be done and it is actually simple, when you know how.
To quit cold turkey you need to learn how to quit cold turkey.
An online Google search for "how to quit smoking cold turkey" brings up all kinds of results.
They range from "don't do it - it's the worst way" to "just do it – it's the best way!" It seems like everyone has an opinion on how to quit smoking cold turkey.
Some claim that quitting cold turkey is not the best way because it is too tough and you will relapse and give in to their cravings.
More recent studies report that quitting cold turkey is the best way, but they don't really offer advice on how exactly to do it.
We can tell you exactly how to quit smoking using the cold turkey way. Use the Stepbac® method
The Stepbac® method for quitting smoking will teach you how to quit cold turkey.
If you read the book "Stepbac® from Smoking" you will know how. The book is very easy to read and understand with 40 clear pictures and illustrations.
On average it takes around
2 hours
to read "
Stepbac from Smoking
". That's not long.
After you have read the book and learnt the method then you will know how to quit smoking cold turkey and how never to relapse.
So the bottom line about quitting smoking cold turkey is as follows:
1) Quitting cold turkey is an expression for giving up something from one minute to another.
2) Quitting smoking cold turkey is better than cutting back or replacing the nicotine in cigarettes with nicotine in nicotine gum, nicotine patches or e-cigarettes.
3) It is easy to start smoking which is a choice anyone can make. Stopping smoking is nowhere near as easy because over time smoking has become a habit with cravings and because cigarette smoke contains an addictive drug called nicotine. Nicotine, habits and cravings are what makes it difficult to quit smoking cold turkey.
4) The good news is that as soon as you know why you started smoking and when you know how nicotine, habits and cravings trick you into want to keep smoking - then you can use the Stepbac method to stop smoking for good.
5) To quit smoking cold turkey – buy the book "
Stepbac from Smoking
" – read it – and then quit smoking cold turkey.
It only takes a few hours to read Stepbac® from Smoking because we wrote it in a very easy to understand style with over 40 clear illustrations.
"
Stepbac from Smoking
" is a natural way to quit smoking without gaining weight or using patches, gum, hypnosis or acupuncture.
DISCLAIMER. Individual results may vary
Please click on the link below to view the book in the Amazon Bookstore.

---