Best way to stop smoking. Stepbac® smoking cessation method is a better way to give up smoking. Quit by yourself using the Stepbac® methodStepbac® from Smoking is based on the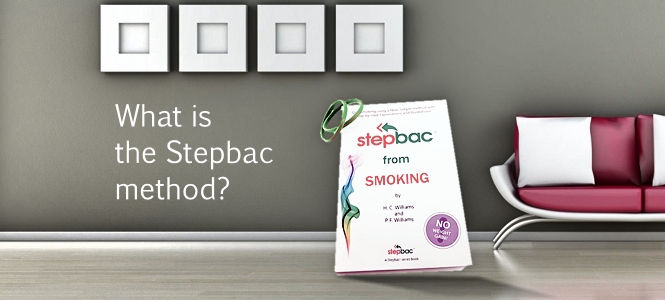 Stepbac® method. The Stepbac® method teaches smokers how they were - and are still being - tricked into smoking and then teaches them how to change smoking habits into a Stepbac® habit of not smoking.
Stepbac® from Smoking helps smokers stop in a natural way by yourself.
Stepbac® does not require treatments, therapy or addictional nicotine replacement products like for example e-cigarettes, inhalors, gum or patches
Stepbac® simply teaches smokers a new approach to effectively learn how to quit smoking.
The Stepbac® from smoking method was developed by a family of ex-smokers who felt that the knowledge gained from recent smoking and nicotine addiction research results can be used in a better way to quit smoking than existing smoking cessation methods.
Many commonly used smoking cessation methods were developed 20 or 30 years ago and have changed little since then
The Stepbac® smoking cessation method takes advantage of the latest research to effectively teach smokers how to quit smoking in a natural way.
Smokers can quit themselves after reading Stepbac® from Smoking book.
Or alternatively smokers can attend a Stepbac® Quit Smoking seminar. The seminar is a 5 hour session with post seminar support designed to help smokers to understand the reasons why they smoke and teaching them how to stop smoking.
Stepbac® Quit Smoking sessions incorporate information that explains in a clear, informative and interesting way how a smoker's life has been hijacked by cigarettes, tobacco and nicotine.
Stepbac® teaches smokers how to take back control of their lives and how to step back to the day before they started smoking using information and practical techniques.
Stepbac® was developed and is headquartered in Barcelona, Spain where most of our smoking cessation courses and franchise training takes place.
DISCLAIMER. Individual results may vary

Buy Quit Smoking book "Stepbac® from Smoking" on Amazon


---