It's not healthy to slim down quickly. It's better to slim down and lose weight in a natural and gradual way. If you understand how to control your weight you will be able to get down to your natural and slim weight and never be overweight again

How can you do that? You have to understand what makes you want to eat too much.

When you understand that, then you can control your eating habits very easily.
Then you won't eat more than you need to and then you will slim down and stay slim.

Sound interesting? It's all explained in the bestselling book Stepbac® from Overeating based on the Stepbac® method.

Find out how you are being tricked by the food industry into eating even when you are not really hungry

Then find out a simple method to stop overeating.
How to buy paperback or download free ebook edition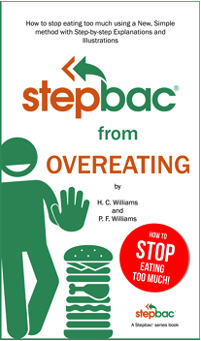 Download and share FREE ebook editions of "Stepbac® from Overeating" for Ereaders and Kindle and ereader and Kindle apps, on our free ebook download page.

The paperback edition of "Stepbac® from Overeating" is available to buy at non-profit price on Amazon

⬤ Paperback edition Amazon.com

⬤ Paperback edition Amazon.co.uk

Stepbac® is supported only by donations and we don't make a profit on the paperback edition, so kindly consider making a small donation after you have read this book if you feel it helped you. Thank you.

DISCLAIMER.
Individual results may vary and Stepbac is cognitive behavioural method that requires some willpower from reader.
Copyright © 2020 - All content copyright Stepbac® - unless otherwise stated