Article Evening Standard Dec 2019: Nearly a third of children overweight or obese, NHS data reveals
The NHS England Annual Report 2018/19, which is a health survey of England, finds that:
"Two thirds of men, six in 10 women and almost one in three children are overweight or obese." and that "More than half of adults (56 per cent) were at an increased, high or very high risk of chronic disease because of their waist circumference and BMI, or body mass index"
Read full article here:

Stepbac® opinion:
We believe that the modern food industry is hijacking natural eating habits.
As we explain in our popular book
"Stepbac® from Overeating"
many people are being tricked into overeating and into eating very unhealthy and unnatural food - what we call "
Candyfood
."
We explain in our "
Stepbac® from Overeating
" book, that four main things are tricking people into overeating; that are oversweetened food, unnatural eating habits, unnatural eating cravings and food marketing methods.
Read "
Stepbac® from Overeating
" and find out how you are being tricked into overeating and learn the very simple
Stepbac method
to take back control of your natural eating habits and "
Stepbac®
to your natural and healthy
weight.
Related pages
Poor diet caused 1 in 5 deaths globally in 2017

How to buy paperback or download free ebook edition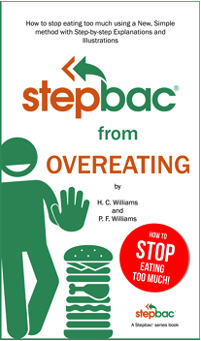 Download and share FREE ebook editions of "Stepbac® from Overeating" for Ereaders and Kindle and ereader and Kindle apps, on our free ebook download page.

The paperback edition of "Stepbac® from Overeating" is available to buy at non-profit price on Amazon

⬤ Paperback edition Amazon.com

⬤ Paperback edition Amazon.co.uk

Stepbac® is supported only by donations and we don't make a profit on the paperback edition, so kindly consider making a small donation after you have read this book if you feel it helped you. Thank you.

DISCLAIMER.
Individual results may vary and Stepbac is cognitive behavioural method that requires some willpower from reader.


Copyright © 2020 - All content copyright Stepbac® - unless otherwise stated