According to an article on the Guardian newspaper "severely obese people in middle age 50% more likely to die early" with "high blood pressure and type 2 diabetes among the risks
These findings are based on analysis of data on 2.8 million NHS patients.
The article highlights also that "people with the highest levels of obesity are running a high risk of a range of serious illnesses and premature death, with
12 times
the risk of type 2 diabetes,
22 times
the risk of sleep apnoea and nearly
four times
the risk of heart failure compared to those who are of normal weight."
Read the
full article
by Sarah Boseley, Guardian Health editor on Monday 29th April 2019 in the Guardian newspaper
Stepbac® opinion:
Another excellent article from the Guardian. It highlights that Britain has a growing problem with overweight and obesity.
Overweight is a killer. It kills people and it is beginning to kill public health services, like the NHS, who cannot cope with the wide variety of serious health problems that overweight people suffer.
In our opinion the best way to stop overweight is to prevent it in early middle age.
"
Stepbac® from Overeating
" is book and a method to help people take back control of their weight.
The book is based on the Stepbac
®
method of taking back control of your lifestyle habits.
It explains in plain language, with many clear diagrammes, why and how, so many people
will
become overweight in middle age
unless
they change their lifestyle habits.
Then "
Stepbac® from Overeating
" explains and teaches a very simple way to change daily overeating habits using the
Stepbac® action
which helps people to create a new and effective habit of taking a "Stepbac
®
" from overeating habits and getting back to a natural and healthy weight.
How to buy paperback or download free ebook edition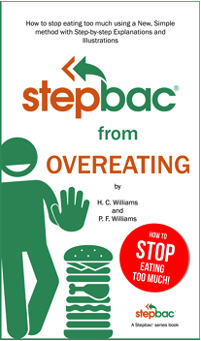 Download and share FREE ebook editions of "Stepbac® from Overeating" for Ereaders and Kindle and ereader and Kindle apps, on our free ebook download page.

The paperback edition of "Stepbac® from Overeating" is available to buy at non-profit price on Amazon

⬤ Paperback edition Amazon.com

⬤ Paperback edition Amazon.co.uk

Stepbac® is supported only by donations and we don't make a profit on the paperback edition, so kindly consider making a small donation after you have read this book if you feel it helped you. Thank you.

DISCLAIMER.
Individual results may vary and Stepbac is cognitive behavioural method that requires some willpower from reader.
Copyright © 2020 - All content copyright Stepbac® - unless otherwise stated