How to lose weight in middle age. 4 out of 5 English men were overweight or obese in 2016.
According to the
Health Survey for England
from 2016 only 22% of middle aged men in the UK in the age group 45-54 in England are at a natural weight.
46% of men in England in this age group are overweight, and 32% are obese,
In other words, 4 out of 5 middle aged men in England are overweight or obese.
Most people know that overweight leads to health problems and early death. Diseases like diabetes, heart attacks and cancer are some of the biggest challenges overweight people face, on top of the daily discomfort and struggle that overweight brings.
So how can men lose weight in middle age?
The main problem with trying to lose weight in middle age, or at any age, is that people
assume
they know how to lose weight.
But actually, most people know very little about losing weight.
Most would say that to lose weight one must eat less and exercise more. That is right but to eat less and exercise is not a plan.
it's a desire, an objective. Where's the specific plan?
It's like saying that to make money, one should start a business and make a profit.
Brilliant objective. What's the plan?
To lose weight people need more than an objective and a vague desire.
That's why most people fail at losing weight.
They try to lose weight themselves without having a real plan; they join a gym, they go on a retreat, they try a trendy weight loss diet, but what usually happens is that they lose heart and interest after few weeks.
Then they blame themselves and they look at everyone else around them eating all day, putting on weight and pretending to be happy and finally they give up and make the best of a half-life at twice the weight.
They weight keeps piling on by the way.
Look, overweight is 90% from overeating and 10% from moving too little.
You can join the gym and train for marathons and run 5k, 10k and jog up Mont Blanc on one leg for charity.. but the day you have a sports injury, or get bored of running daily in all kinds of weather, then you will pile on the weight again, you will become disheartened and you will be tricked by the food industry into seeking refuge in comfort food.
How many celebrities have you seen drop weight, appear on TV and in the news and then later reappear in a fatter version.. Quite a few right?
To lose weight in middle age is easy. When you know how. It's all about habits and taking back control of your eating habits. And knowing how to stop being tricked by the food industry.
Read the bestselling book "Stepbac® from Overeating"
It's an easy read and for middle men it is the best way to learn how you can take back control of your weight
"
Stepbac® from Overeating
" teaches you a simple way to change your daily overeating habits and take a "Stepbac®" to your natural and healthy weight.
"Stepbac® from Overeating" explains four main things that make you want to eat too much and teaches you one thing, the Stepbac® action, to help you stop overeating.
How to buy paperback or download free ebook edition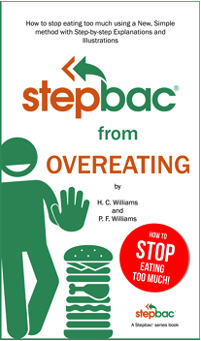 Download and share FREE ebook editions of "Stepbac® from Overeating" for Ereaders and Kindle and ereader and Kindle apps, on our free ebook download page.

The paperback edition of "Stepbac® from Overeating" is available to buy at non-profit price on Amazon

⬤ Paperback edition Amazon.com

⬤ Paperback edition Amazon.co.uk

Stepbac® is supported only by donations and we don't make a profit on the paperback edition, so kindly consider making a small donation after you have read this book if you feel it helped you. Thank you.

DISCLAIMER.
Individual results may vary and Stepbac is cognitive behavioural method that requires some willpower from reader.
Copyright © 2020 - All content copyright Stepbac® - unless otherwise stated